FIFA 24: EA FC 24 TOTW 4 Predictions, Who Will Be Included?
2023-10-10 03:57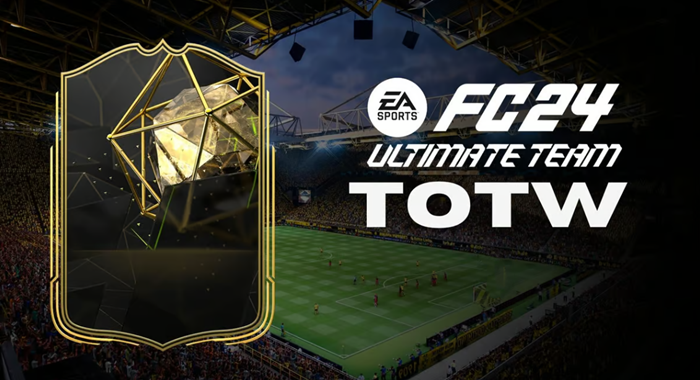 EA FC 24 is in full swing, but this year's special is that it's being released in early access before the full release, and TOTW is also in full swing, with players getting ready to join the TOTW 4 squad this week.
Team of the Week is one of Ultimate Team's oldest and most popular events, and whether you're a veteran of Ultimate Team or just joining EA FC 24, it's worth looking forward to a best-of-the-week contest featuring players who performed well over the weekend, TOTW4. EA Sports usually considers the performance of players competing in Europe's top leagues, but occasionally also considers some representatives from around the world, and the Team of the Week represents a stellar line-up that has performed well. These exceptional individuals received recognition and accolades from newspapers around the world, and even the FC 24 Ultimate Team were quick to recognize their talents!
The players available in the TOTW team are called status cards and are only valid for one week, so if players want to own them, they must pay attention to the time and not miss these key dates. TOTW 3 Squads will be released on October 11th, replacing the current TOTW Squads. These cards can be obtained by opening packs or SBCs/Targets. Players only have one week to get the cards they need before TOTW 4 takes its place.
Based on their performances over the weekend, there are a few players who look very likely to be part of the TOTW 4 squad. One of those currently visible is Manuel Riemann in Bochum. The goalkeeper was outstanding against RB Leipzig, making five saves, saving two penalties and keeping a clean sheet for his team.
Goalkeepers:
Manuel Reimann - VFL Bochum
Defenders:
James Tavernier - Rangers
Micky van de Ven - Tottenham
Yuri Berchiche - Athletic Bilbao
Midfielders:
Sergej Milinkovic-Savic - Al-Hilal
Federico Valverde - Real Madrid
Scott McTominay - Manchester United
Jonas Hoffman - Bayer Leverkusen
Wingers:
Gabriel Martinelli - Arsenal
Mohamed Salah - Liverpool
Kingsley Coman - Bayern Munich
Strikers:
Teemo Pukki - Minnesota
Héctor Hernández - Chaves
The above is the predicted list, players can use it as a reference. However, the specific lineup is still mainly official. In any case, TOTW4 is worth looking forward to!



Habib: I'm very satisfied, thanks FIFACOIN.COM. And I highly recommend this website if you want to get fc 24 coins or players.

The customer has bought:

FC 24 Coins

2023/12/03




Jason: Order ID: 3009xxxx. Have ordered many times from fifacoin and was satisfied with the delivery every single time. The withdrawal is very fast and safe, so it is the best place to get your fc coins.

The customer has bought:

FC 24 Coins

202

3

/

12/03




Alsaket: I was surprised at how easy and flexible it was for me to buy FC 24 coins at such a great price! Definitely recommend.

The customer has bought:

FC 24 Coins

202

3

/

12/03




Bartosz: I've been using FIFACOIN for my FIFA Coins needs, and I have to say it's the best one out there. Their service is incredibly reliable, with lightning-fast delivery of coins, so I've never had any issues with transactions. Otherwise, their customer service is top-notch, always ready to assist when needed. What sets FIFACOIN apart is their competitive pricing, whether you're a casual player or a serious FIFA enthusiast, I highly recommend FIFACOIN for all your coin needs.

The customer has bought:

FC 24 Coins

202

3

/

12/03




Gonzalez: I used this coin site many times. And I have to say my coins and players came to my account about 30 mins, absolutely amazing service. I would 100% recommend buying from them.

The customer has bought:

FC 24 Coins

202

3

/

12/04




Phillip: They have good customer service and I love the site! I will forever buy from FIFACOIN, very safe and fast. I even buy FC players from them, very proud that I'm a VIP customer.

The customer has bought:

FC 24 Coins

202

3

/

12/04




David: First of all you are not doing anything, you just wait for the coins to come to your account. They make the delivery easy and fast. The most important one is they are trustable.

The customer has bought:

FC 24 Coins

202

3

/

12/04




SameR: The best in the business. I tried this site yesterday night for the first time and they did an excellent service, I got my coins and players without any problems. Thank you FIFACOIN.

The customer has bought:

FC 24 Coins

202

3

/

12/04




Mickle: Was sceptical like many people but it worked exactly as promised. Especially the boosting! FIFACOIN customer service was responsive too. Will use again!

The customer has bought:

FC 24 Boosting

202

3

/

12/05




Alfaro: FIFACOIN is the safest website! I bought fc 24 coins and received it in under a hour. And then try the boosting, it is so fantastic! Definitely buy from here again.

The customer has bought:

FC 24 Boosting

202

3

/

12/05




Shukla: Great service and orders were completed very fast. Bought the boosting from them twice and the steps was easy.

The customer has bought:

FC 24 Boosting

202

3

/

12/05




Connkr: Very professional and helpful Thanks for your service in helping me out every step of the way. Whatever coins or boosting, they have really cheap prices and very nice and patient people.

The customer has bought:

FC 24 Boosting

202

3

/

12/05