FIFA 24: Latest news on new promotion EA FC 24 Centurions
2023-10-25 09:17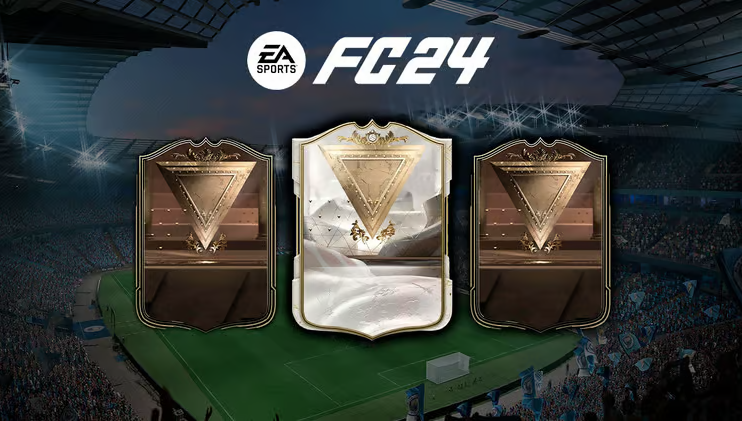 FC 24 players will receive a new promotion from EA FC 24 Ultimate Team this week, which may be the first in the new game to feature special icons and include ICONS.
The EA FC 24 Trailblazers Team 2 squad is currently available in the UT Pack, which includes players such as Heung-Min Son, Harry Kane, and Sophia Smith, but this promotion will end this week and a new squad will take its place. It has been revealed that the next promotion is the EA FC 24 Centurions promotion, which will be released in EA FC 24 Ultimate Team this week after debuting in FIFA 23, while some meta players are also will be involved.
Players are seeing Centurions for the first time in FIFA 23, with a promo celebrating players from the current squad reaching 100 clubs, whether that's 100 appearances, 100 goals, 100 clean sheets, etc. performance and achievements. The last trailer wasn't well received, though, and with this EA FC 24 Centurions trailer being released in October instead of January, it might do better than the first time around.
From ultra-reliable EA FC 24 leaker @FutSheriff we have some of the players that will be featured in the EA FC 24 Centurions promotion, and the latest leak includes EA FC 24's first special icons, featuring not only player favorite Ruud Gullit and Jairzinho, as well as strong players from Manchester United and Real Madrid, will also be featured in Ultimate Team. He also addressed rumors over whether Lionel Messi would be included in the Centurion campaign, announcing that the Argentinian would not appear at the event.
Here are all the Centurion players collected so far:
Ruud Gullit (ICON)
Jairzinho (ICON)
Wayne Rooney (ICON)
Zico (ICON)
Marcus Rashford (Manchester United)
Pedri (Barcelona)
Thiago Silva (Chelsea)
Ferland Mendy (Real Madrid)
Alexandre Lacazette (Lyon)
The Centurions promotion will be released after Trailblazers Team 2, so with the Trailblazers promotion ending on the afternoon of Friday 27th October, the EA FC 24 Centurions promotion should launch on Friday 27th October at 6 pm BST )/1 pm ET on Ultimate Team.
There is also speculation about the remaining players, as for who will appear in the EA FC 24 Centurions promotion, it is still unknown, but it is also a moderator for reference. Each player involved must have 100 appearances/goals for their current club or for their country, and for Icons they must also have 100 goals in their career.
100 Appearances:
CM: Luis Alberto (Lazio) - 100 appearances for Lazio
CM: Pedri (Barcelona) - 100 appearances for Barcelona
CF: Ruud Gullit (ICON) - 100 appearances for AC Milan
ST: Wayne Rooney (ICON) - 100 appearances for England
CB: Thiago Silva (Chelsea) - 100 appearances for Chelsea
LB: Ferland Mendy (Real Madrid) - 100 appearances for Real Madrid
CAM: Xherdan Shaqiri (Chicago Fire) - 100 appearances for Switzerland
CDM: Emre Can (Borussia Dortmund) - 100 appearances for Borussia Dortmund
100 Goals:
CAM: Zico (ICON) - 100 goals for Flamengo
RW: Jairzinho (ICON) - 100 goals for Botafago
ST: Alexandre Lacazette (Lyon) - 100 goals for Lyon
ST: Alex Morgan (San Diego Wave) - 100 goals for USA Women
LW: Marcus Rashford (Manchester United) - 100 goals for Manchester United



Habib: I'm very satisfied, thanks FIFACOIN.COM. And I highly recommend this website if you want to get fc 24 coins or players.

The customer has bought:

FC 24 Coins

2023/12/03




Jason: Order ID: 3009xxxx. Have ordered many times from fifacoin and was satisfied with the delivery every single time. The withdrawal is very fast and safe, so it is the best place to get your fc coins.

The customer has bought:

FC 24 Coins

202

3

/

12/03




Alsaket: I was surprised at how easy and flexible it was for me to buy FC 24 coins at such a great price! Definitely recommend.

The customer has bought:

FC 24 Coins

202

3

/

12/03




Bartosz: I've been using FIFACOIN for my FIFA Coins needs, and I have to say it's the best one out there. Their service is incredibly reliable, with lightning-fast delivery of coins, so I've never had any issues with transactions. Otherwise, their customer service is top-notch, always ready to assist when needed. What sets FIFACOIN apart is their competitive pricing, whether you're a casual player or a serious FIFA enthusiast, I highly recommend FIFACOIN for all your coin needs.

The customer has bought:

FC 24 Coins

202

3

/

12/03




Gonzalez: I used this coin site many times. And I have to say my coins and players came to my account about 30 mins, absolutely amazing service. I would 100% recommend buying from them.

The customer has bought:

FC 24 Coins

202

3

/

12/04




Phillip: They have good customer service and I love the site! I will forever buy from FIFACOIN, very safe and fast. I even buy FC players from them, very proud that I'm a VIP customer.

The customer has bought:

FC 24 Coins

202

3

/

12/04




David: First of all you are not doing anything, you just wait for the coins to come to your account. They make the delivery easy and fast. The most important one is they are trustable.

The customer has bought:

FC 24 Coins

202

3

/

12/04




SameR: The best in the business. I tried this site yesterday night for the first time and they did an excellent service, I got my coins and players without any problems. Thank you FIFACOIN.

The customer has bought:

FC 24 Coins

202

3

/

12/04




Mickle: Was sceptical like many people but it worked exactly as promised. Especially the boosting! FIFACOIN customer service was responsive too. Will use again!

The customer has bought:

FC 24 Boosting

202

3

/

12/05




Alfaro: FIFACOIN is the safest website! I bought fc 24 coins and received it in under a hour. And then try the boosting, it is so fantastic! Definitely buy from here again.

The customer has bought:

FC 24 Boosting

202

3

/

12/05




Shukla: Great service and orders were completed very fast. Bought the boosting from them twice and the steps was easy.

The customer has bought:

FC 24 Boosting

202

3

/

12/05




Connkr: Very professional and helpful Thanks for your service in helping me out every step of the way. Whatever coins or boosting, they have really cheap prices and very nice and patient people.

The customer has bought:

FC 24 Boosting

202

3

/

12/05